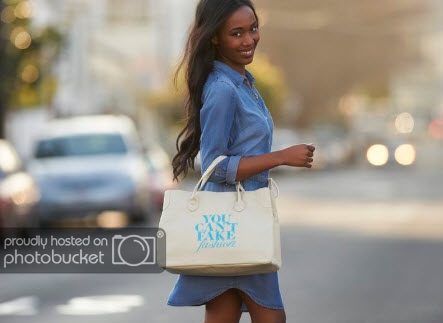 "You Can't Fake Fashion." That's the catchy slogan behind an important new campaign that eBay and the Council of Fashion Designers of America (CFDA) recently launched. The campaign is designed to raise awareness and spark conversation around anti-counterfeiting efforts in the fashion arena. To celebrate original design, a collective of CFDA members, including President Diane Von Furstenberg, and design luminaries such as Tommy Hilfiger, Billy Reid, Tory Burch, Jason Wu, Marchesa, Rodarte, and The Row collaborated to produce a collection of original canvas tote bags emblazoned with the aforementioned tagline to celebrate original design.
In addition to the one-of-a-kind totes, limited edition standardized totes are available. Both offerings are being sold through eBay Fashion Vault at fixed, Buy It Now price points. Customized totes are $150, and the standard tote sells for $35. All proceeds will benefit the CFDA Foundation.
The eBay/CFDA campaign was announced in April, at the seventh annual Harper's Bazaar Summit on Anti-counterfeiting, sponsored by eBay. The event drew a cross-section of 150 fashion industry leaders, including representatives from luxury brands such as LVMH and media such as Women's Wear Daily and the New York Post, as well as designers, including Dianne von Furstenberg.
Alan Marks, eBay Inc.'s Senior Vice President of Global Communications, also attended the summit, and participated in a panel discussion on how to fight counterfeits along with representatives from Mark Monitor, Portero and Levi Strauss. He remarked, "Online and offline commerce are blending, and consumers are changing the way they shop."  "In this emerging new retail environment, collaborative industry efforts to fight counterfeits are more important than ever. Counterfeit products hurt brand owners, retailers and marketplaces such as eBay, undermining consumer trust and confidence. eBay is committed to playing an industry-leading role and being a strong partner in anti-counterfeiting initiatives."
In fact, Marks noted that about half of the 150 attendees at the summit participate in eBay's Verified Rights Owners (VeRO) program. The "You Can't Fake Fashion" totes are available now through eBay Fashion Vault.
This collaboration marks another milestone for eBay in the fashion category as the company continues to provide innovative ways to shop the incredible selection of new and authentic fashion at great value available on the marketplace.