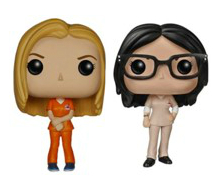 Alors que la 4èmesaison de la série 'Orange Is The New Black' débarque sur nos écrans le 17 juin, eBay a profité de l'occasion pour savoir si l'orange était vraiment le nouveau noir.
Avec plus de 5 200 articles estampillés 'Orange Is The New Black' en vente sur eBay[1] et près de 60 articles vendus chaque jour[2], la série phare rencontre un véritable succès !
En tête des achats liés à la série, on retrouve :
Les DVD

Les films

Les autographes
Mais alors, l'orange est-il vraiment le nouveau noir ?
Eh bien non. Dans la vraie vie, l'orange est encore loin d'égaler l'intemporelle couleur noire dans les achats. Sur eBay, toutes catégories confondues, il se vend 12 fois plus d'objets de couleur noire que de couleur orange[3].
Dans la catégorie 'Maison & Jardin', avec plus de 400 lampes orange achetées chaque jour, c'est tout de même 8 fois moins que l'équivalent en noir

3

.

Dans la catégorie 'High Tech', il se vend près de 30 fois plus de coques d'iPhone noires que d'orange3 ! 

Dans la catégorie 'Vêtements et accessoires', les 500 robes orange sont encore loin de détrôner les 4 500 petites robes noires vendues chaque jour

3

.
Il semblerait donc que l'engouement pour l'orange ne soit pas encore prêt à passer outre le petit écran…Affaire à suivre !
Pour toute demande d'information complémentaire :
annelaure@barthandpeers.com : 01 53 75 38 39