Earlier this morning there was a very brief post made by Dennis Goedegebuure to the announcement board that teased an all-new eBay Pulse.
I spend a lot of time commuting each day with Dennis. We live in the same neighborhood in SF and our wives share eerily similar body-clocks when it comes to expecting baby # 2 and, as a result, we catch up a lot on the shuttle to work. We share common interests on the work side of things too. His official title is "Internet Marketing Specialist" but I think its best to categorize him as the SEO Guru here at the company. As a result, we talk blogging a lot and when I saw the short post to the Discussion Board I knew I needed to go get more info from him.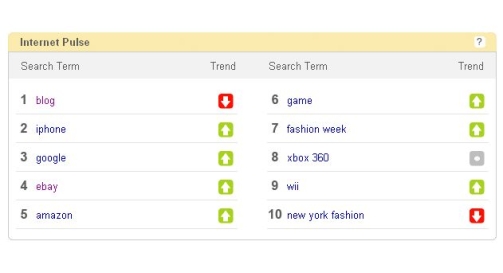 In addition to giving Pulse a new look and feel they have also added new modules that display the most popular searches in 29 different categories, as well as the biggest movers in those categories. The Most Popular and Most Watched modules remain the same.
Internet Pulse
I was most interested in the Internet Pulse module. The idea of the Internet Pulse, is to take the RSS feeds of online influencers, pull the keywords from these expert blogs, and build links to search pages on eBay. This methodology gives eBay a scalable way to get the hottest product keywords linked from the Pulse page and indexed by the search engines.
Dennis got the inspiration from Twistori. Twistori is tagged as a "social experiment" that pulls tweets from Twitter that contain specific keywords (i love, i hate, i think, i believe, i feel, and i wish). It then publishes the tweets anonymously in a non-stop stream. It provides insight into what the Twitter community feels passionate about – what are they saying they love or hate? It's early stages yet but by applying this concept to finding out what is relevant on eBay is a great example of applying external innovation into the eBay framework.
It's brand new and it launched today so inevitably it won't be 100% streamlined at first, but over time this promises to be a great new way of exposing sellers to buyers and a way for buyers to look into getting the "hot new thing" on eBay.
Cheers,
RBH