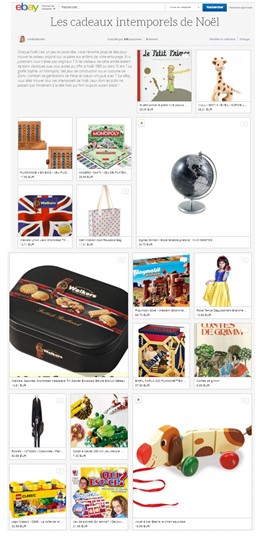 BOXING DAY MARKS START OF ONLINE SELLING SEASON
Smart Brits set to start the January sales with their own sale of the  
£495* million of unwanted gifts set to be received this year
eBay, the UK's leading online marketplace, is forecasting that this Christmas consumers will have spent £495 million* on presents that are simply unwanted, equivalent to £32.13 per person**.  Last year over 100,000 items were listed on Boxing Day as smart shoppers turned to eBay to sell their unwanted gifts. 
Research commissioned by eBay found that of the 10 gifts the average person is set to receive this Christmas at least one will be left unloved under the tree.  16%* of Brits admitted to 're-homing' unwanted gifts by selling them and of these, over a third will put the money towards buying something they really wanted for Christmas. 
The research revealed that In-laws and extended family are expected to be the worst offenders of giving  unwanted presents this year,  according to a quarter* of Brits.
Other findings show:
To avoid receiving unwanted items over six million Brits (10%) take to social media to hint about their ideal gift this Christmas

The most wanted presents Brits hope to find under the tree this year are: clothes, shoes and accessories

Top toys include Spiderman (searched for over 200,000 times) and Furby (searched for over 70,000 times)

"iPad" has been searched for 1.7 million times on eBay

The least wanted presents Brits will be leaving under the tree this year are: power tools and DIY equipment

Almost a fifth of Brits (18%) recycle unwanted presents by giving them to someone else as a gift and a quarter of Brits (24%) end up keeping the gift despite not actually wanting it
James Stewart, Director of Consumer to Consumer Selling at eBay, said "If you want to 'upgrade' your gift this year by trading something unwanted for an item that was on your Christmas wish-list then you are not alone. Last year we saw over 100,000 unwanted gifts listed on Boxing Day itself, with many people listing their items for a good cause, using eBay for Charity to donate a percentage of the sale price to a charity of their choice."
Those looking to sell their unwanted gifts this Christmas can use eBay's top tips for selling:
1. Timing is key. Have a think about the best times to list – listings that end in the middle of the night will be seen by less people
2. Retail with detail. Make sure you include all available information when you're describing your item and use good, clear pictures.  Also, make sure you're on hand after the sale to provide great customer service.  This will ensure positive Feedback and a great experience for both you and your buyer
3. Use your mobile. The eBay app is free to download and can list an item in just sixty seconds using barcode technology
There will be no better time than this Christmas to get the things you want with the gifts that you don't.  From 26th December for a limited time, sellers will benefit from two great discounts, with no fees for listing items (only a percentage fee for successful sale) and an exclusive discount with CollectPlus, an easy way to send a parcel directly from eBay.  It's as easy as printing a postage label direct from eBay and then dropping your parcel at one of thousands of convenient locations such as supermarkets, convenience stores and garages across the UK. 
Savvy eBay sellers can easily upgrade gifts or make some quick post-Christmas cash by selling some of the most common un-wanted items on eBay.co.uk:

ENDS
For further statistics and data, or to speak to an eBay spokesperson, please contact the eBay press office at
Shine Communications on 020 7100 7100/ eBayteam@shinecom.com
 Case studies available, click to download images
Notes to Editors:
eBay in the UK
Founded in 1999, eBay.co.uk is the UK's largest online marketplace, providing a platform for over 17 million unique visitors per month[1] to buy and sell new, unique and used items.
There are around 60 million live listings on the UK site, which has tripled from 20 million in 2009.[2]
One in two online buyers in the UK visits eBay.co.uk every month.[3]
eBay.co.uk receives around as many visitors per month as London's Oxford Street.[4]
Nearly twice as many people visit eBay.co.uk every month than visit the UK's four leading shopping centres in the same period.[5]
eBay is consistently one of the most visited UK retail sites, with around a 15% share of total UK online shopping visits.[6]
190,000 registered businesses are currently trading on the site – up from 120,000 in 2009.
eBay mobile
eBay mobile applications are available in more than 190 countries and eight languages.
Globally, eBay is predicting $10 billion of transactions taking place via a mobile device in 2012.
eBay mobile apps have been downloaded over 90 million times globally. 
In the UK an item is purchased every second on eBay via a mobile device.
The most expensive items recently bought on eBay mobile in the UK were a Porsche 911 Carrera and Land Rover Evoque both being purchased for around £40,000.
eBay for Charity
The eBay for Charity programme has raised over £41 million for over 7,000 Charities since 2006
SOURCES:
* Onepoll TNS research commissioned by eBay – December 2012
***eBay internal data
---
[1] Nielsen Netview March 2012
[2] eBay internal data (Daily Live Listing Count)
[3] Six out ten adults shop online (OECD report, The Future of the Internet Economy, 2012)
[4] London Oxford Street has on average 18.49 million visitors a month (Westminster City Council).
[5]  Bluewater, 2.3 million average visitors a month; Lakeside, 2 million average visitors a month; Westfield Stratford, 3.87 million average visitors a month; Westfield London, 2.25 million average visitors a month. (Data from their own websites).
[6] Experian Hitwise August 11, 2012