Two of the most iconic musical artists are coming together this holiday season on eBay.com/Celebrity, a unique eBay shopping destination that auctions off celebrity-donated merchandise and memorabilia, benefiting charitable causes.
Tony Bennett, the multiple GRAMMY and Emmy award winner reveals his artistic side – under the pen name of "Benedetto" – in an original, hand-sketched nude portrait of "Born This Way" singer and style icon Lady Gaga, with proceeds split between Exploring the Arts and Born This Way Foundation.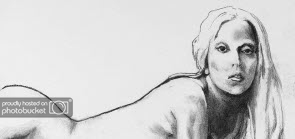 The portrait, which will be unveiled in the January 2012 issue of Vanity Fair, measures 18 inches wide and 24 inches tall and is signed by Tony Bennett, under his artist name "Benedetto." It was created with Prismacolor Art Vine Charcoal Sticks on Fabriano Artistico heavyweight watercolor paper.
Bidding will begin on Monday, Dec. 12, at 4:00 PM, PST and conclude Monday, Dec. 19 at 4:00 PM, PST, exclusively at eBay.com/Celebrity. Other autographed items from Tony Bennett and Lady Gaga will also be available, including:
• A copy of the book "Tony Bennett in the Studio" featuring images of Tony's artwork and an exclusive CD
• A limited edition poster of the cover art for the new "LADY GAGA X TERRY RICHARDSON" book featuring more than 450 stunning, provocative photographs
• Accessories Lady Gaga wore in the Vanity Fair photo shoot by Annie Leibovitz for the January 2012 issue including a hat, a ring, sunglasses and shoes
"Lady Gaga is a cultural icon and has recently launched the Born This Way Foundation, which focuses on youth empowerment, equality and anti-bullying," said Senior Public Relations Manager Amanda Miller, who spearheaded the eBay.com/Celebrity site. "We are thrilled to help her raise funds for this incredibly worthy cause and hope this will be the first of many charity auctions she hosts on eBay."
All proceeds from the auction items will benefit Exploring the Arts (ETA) and the Born This Way Foundation. ETA is a nonprofit organization founded in 1999 by Tony Bennett and his wife Susan Benedetto. Its mission is to strengthen the roles of the arts in public high school education. Born This Way Foundation is a nonprofit organization founded by Lady Gaga in partnership with the MacArthur Foundation and Harvard University. Officially launching in 2012, the foundation will focus on youth empowerment through self-confidence, well-being, anti-bullying, mentoring and career development.