Editor's Note: The following blog post was originally posted on the eBay Green Team blog on April 10, 2012.
We've had a lot of green goodness going on in Utah lately, and this week we have even more! Many of you will remember that in the spring of 2010 we opened Topaz, our first wholly-owned data center in South Jordan (which was awarded LEED® Gold status by the US Green Building Council). Since then, we've continued to invest in Utah and worked to demonstrate our commitment to make our operations there even more efficient and sustainable.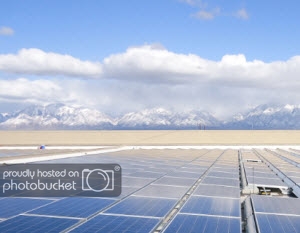 Last fall, for example, we announced the groundbreaking of another state-of-the-art facility—this time a new employee center in Draper—that will also be built and operated to LEED® Gold standards. To achieve and maintain this status, the new center will feature everything from minimal construction waste and sustainable and locally-sourced building materials, to high-efficiency heating and lighting, easy access to transit and green cleaning and landscaping practices. Additionally, we've been working closely with Republican State Senator Mark Madsen and others over the past year and just a couple weeks ago we passed Senate Bill 12, a new piece of legislation that allows power-intensive utility customers like eBay to buy and transmit power directly from renewable energy developers.
Following directly on the heels of this legislative win—and as several of our employee Green Team members from 14 offices around the world descend on Salt Lake City for our annual Leaders' Summit—we are thrilled to share our latest Utah development. Today, we are announcing eBay's largest solar installation to date, atop the Topaz data center.
Here are the details. The 665 kilowatt (kW) solar power system, designed and installed by SPG Solar, features 72,000 square feet of solar panels, covering virtually every inch of roof space on the data center to capture the abundant sunshine Utah enjoys nearly year-round. The installation will produce 924,013 kilowatt hours (kWh) of clean electricity annually, which is equivalent to offsetting 702 tons of greenhouse gas emissions or planting 136 acres of pine forests. In addition to the environmental benefits, we see it as a pretty good business investment, too—through a combination of lower electricity bills, Federal stimulus dollars and tax incentives, we anticipate the installation will pay for itself in just four years. The Topaz solar array, along with our 650 kW array and 500 kW Bloom Fuel cell installation at our San Jose headquarters and our 100 kW solar array in Denver, brings our total renewable energy capacity to almost 2 Megawatts. To put that in perspective, that's equivalent to about 11 percent of our total U.S. data center electricity demand.
While the Topaz solar installation represents our biggest renewable energy project so far, we also acknowledge the limitations that it represents as we consider eBay's overall energy mix. Despite the fact that we used all the roof space available, the power generated by the array still represents less than 10 percent of the total load of the data center. Combined with the new renewable legislative provision that will go into effect this Summer, this project demonstrates that we will do what we can, where we can, to source cleaner, greener energy. But it also illustrates that "silver bullet" solutions are hard to come by. We will continue to invest in our own renewable energy options when and where that makes sense (like we have today), and as Senate Bill 12 demonstrates, we will also work to find other innovative ways to secure clean energy sources. Along the way, we hope our efforts—the successes and the challenges—will help other companies and organizations see their role in achieving a sustainable, clean energy future in a new and, hopefully, optimistic light.
In a private ceremony at the summit this week, our Green Team leaders will help us dedicate each of the 2,375 solar panels on the roof of Topaz to individual employee Green Team members as a thank you for their innovative and lasting contributions to making eBay a greener company. And, indeed, we also take this moment to thank all of you—our 300,000 Green Team members—for joining us. Let us know what you think, and we'll be sure to keep you updated on our progress in Utah and around the world!